The yen strengthened, weighing on Japanese shares, as geopolitics remained in focus before data on China's economy. The lira jumped, leading gains among emerging-market currencies, after Turkey voted to hand the president sweeping authority.
The yen extended gains at a five-month high amid persistent concern over the situation with North Korea. The lira jumped 2 percent after a weekend referendum handed Recep Tayyip Erdogan the power to call elections at any time and appoint ministers. Stock declines in Japan and Singapore were offset by gains in Seoul and Taipei, following a fourth straight week of losses for the region's equities. Markets in Australia, New Zealand and Hong Kong are closed Monday and most European markets are also shut. The U.S. is set to resume.
Investors have been jittery amid an escalation in geopolitical tensions this month. While North Korea's failed ballistic missile launch on Sunday eased the risk of imminent retaliation, it hasn't prompted the Trump administration to deviate from its plans for dealing with Pyongyang. U.S. President Donald Trump is willing to consider "kinetic" military action, including a sudden strike, to counteract North Korea's series of destabilizing actions, according to two people familiar with the White House's thinking.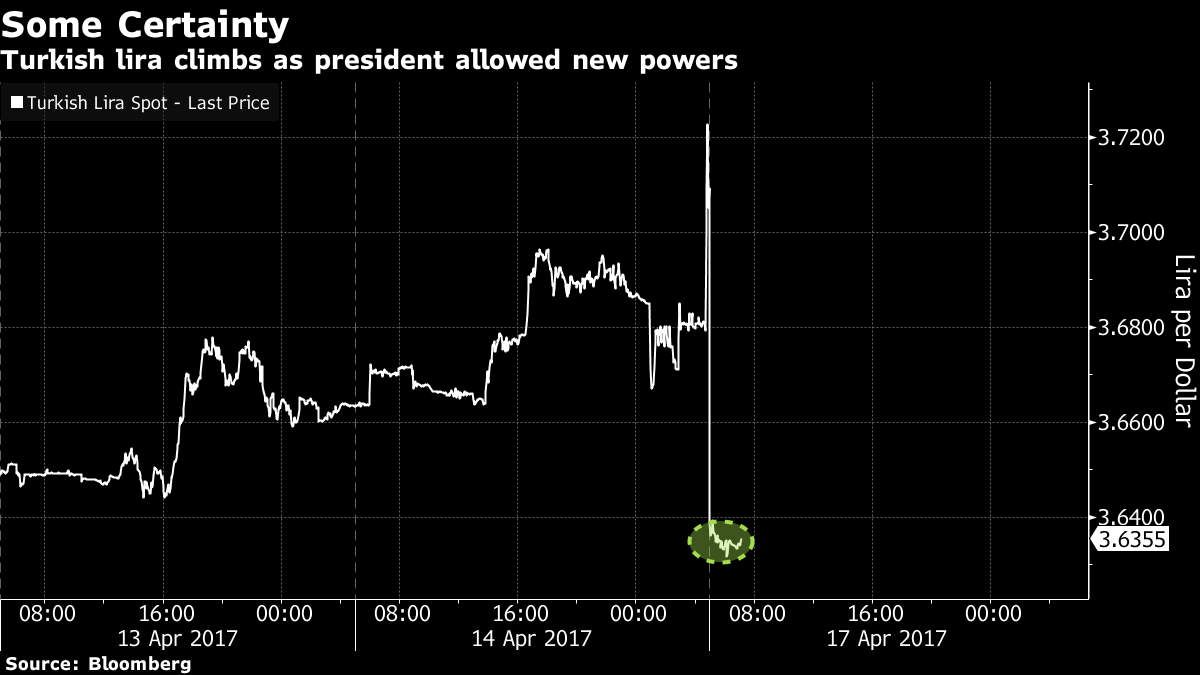 In Turkey's weekend referendum, voters approved the most radical political overhaul since the republic was founded 93 years ago on the expectation Erdogan will safeguard security and kickstart the economy. He will have authority to call elections at any time, and will have greater sway over fiscal policy.
The U.S. economy remains in focus as traders try to get a handle on Trump's fiscal and economic plans. The president decided not to label China a currency manipulator, reversing a promise he made during the election campaign, citing Beijing's help in reining in North Korea.
Read our Markets Live blog here.
Here's what investors are watching this week:
Data on China's first-quarter gross domestic product is due Monday. The world's second-largest economy is expected to have grown 6.8 percent in the first three months of the year for a second straight quarter, according to a Bloomberg survey of economists, driven by higher property and producer prices.

U.S. Vice President Mike Pence will travel to South Korea, Japan, Indonesia, Australia and Hawaii in his first official trip to the Asia-Pacific region. He'll emphasize President Trump's continued commitment to U.S. alliances and partnerships.

The annual spring meetings of the World Bank Group and the International Monetary Fund take place in Washington.

Earnings season is ramping up. Companies reporting this week include Bank of America Corp., Goldman Sachs Group Inc., International Business Machines Corp., Netflix Inc., Heineken NV and Unilever.
Here are the main moves in markets:
Currencies
The yen climbed 0.4 percent to 108.23 per dollar as of 10:35 a.m. in Tokyo. The currency jumped 2.3 percent last week and is trading at its highest level since mid-November.
The Bloomberg Dollar Spot Index dropped 0.2 percent, weakening against all its major peers. The Korean won and New Zealand dollar each added at least 0.3 percent.
The Turkish lira climbed the most since Jan. 30. The currency is still down 3.1 percent versus the dollar for the year.
Stocks
Japan's Topix index fell 0.3 percent, after capping a fifth straight week of declines on Friday, its longest losing streak since December 2015. Singapore's Straits Times Index lost 0.7 percent, while the Shanghai Composite was down 0.7 percent.
South Korea's Kospi gauge added 0.6 percent, and Taiwan's Taiex rose 0.3 percent.
Bonds
The yield on 10-year Treasuries dropped four basis points to 2.20 percent, set for the lowest closing level since November.
Commodities
Gold rose 0.6 percent to $1,292.87 an ounce. It advanced 2.5 percent last week, trading at the highest level since November.
West Texas Intermediate crude fell 0.6 percent to $52.89 a barrel, after a weekly gain of 1.8 percent.
More From this publisher : HERE
Recommended Products