The U.K. government has stepped up its rhetoric about the chances that Britain could crash out of the European Union without any agreement to bring order to the divorce. If the two sides can't reach a deal, companies will suddenly find themselves outside the rules, regulations and free-trading arrangements that they have built their businesses around for decades. What would such a scenario mean for business, and for daily life?
Just a few estimates: 400 billion pounds (or $530 billion) in lost economic growth by 2030, according to Rabobank; 17 billion pounds in lost exports from just four sectors, according to law firm Baker McKenzie; a 2.6 percent drop in per capita income, says a paper published by the Brookings Institution.
Banks have so far led the charge in getting ready for a disorderly divorce that would probably result in tens of thousands of finance jobs relocating to the rest of Europe and billions in moving costs. But what about risks faced by key industries particularly reliant on EU trade, labor or common rules, such as food and pharmaceuticals?
Read more: The Brexit Heartlands Where a Good Deal Matters Most
Flights
Ryanair, based in Dublin but with a large U.K. business, warns there could be months during which there are no flights between the U.K. and Europe. Chancellor of the Exchequer Philip Hammond dismisses such suggestions, saying while it's "theoretically conceivable'' no one thinks that's where we will end up. 
Easyjet is taking measures to make sure its flights between mainland European destinations won't be affected, setting up an EU-based company in Vienna. But that won't help U.K-EU flights, in the worst-case scenario. The role of the European Court of Justice – taboo for pro-Brexit Brits – could come into play.
Calmer heads say a deal will be reached as the EU has as much to lose as the U.K. They could fall back on earlier bilateral agreements on flights, although those would cover more limited routes and frequencies.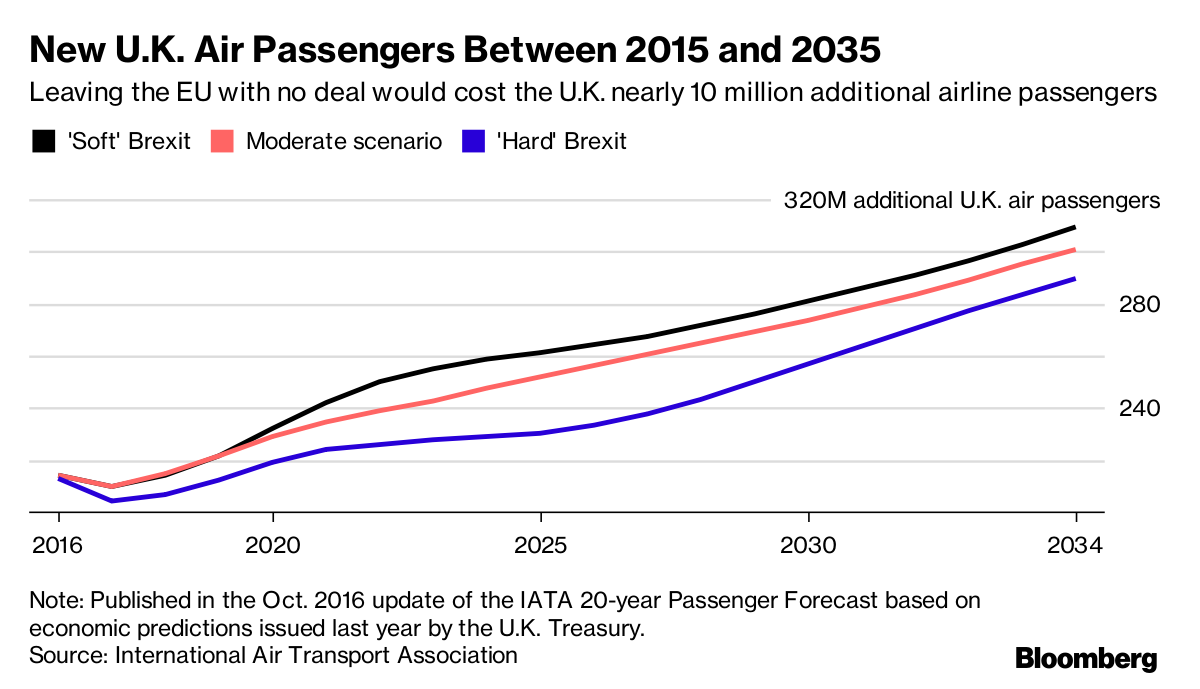 Food 
Supermarkets are worried about fresh food rotting at border crossings, and in the fields if there's no one to harvest it. Prices will go up.
The industry has already been buffeted by the pound's decline, with grocers increasing prices and cutting costs in response. Further hikes would become inevitable if a no-deal exit brings tariffs that the British Retail Consortium reckons could amount to an average 22 percent. That would be on top of another sterling slump. The U.K. imports about half of its food.
As for domestic produce, Brexit day is shortly before the growing season for much of  Britain's domestically produced fruit and vegetables. Without migrant labor, many suppliers will struggle to find legal workers to pick the crops.
Still, when it comes to the risk of food held up at ports, the U.K. says its contingency plans for a no-deal split envisage measures such as registering consignments in advance, as there's not much room to expand at Dover to make room for trucks awaiting checks.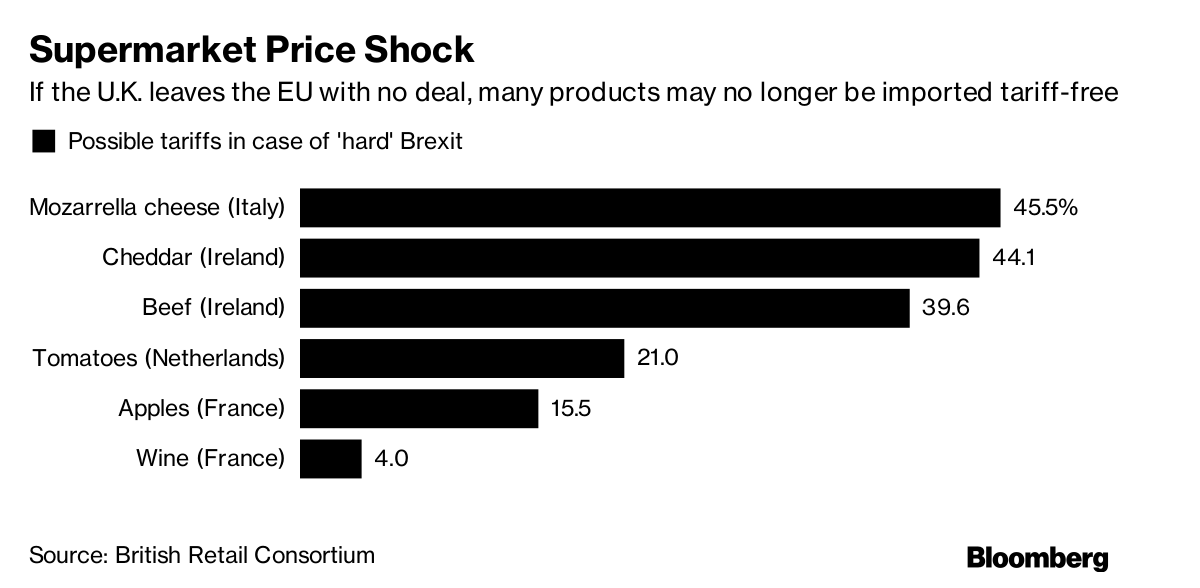 Read more: Why Brexit Risks a Gangsters' Paradise
Pharmaceuticals
At stake is the free movement of medicines.
From product registration to drug testing, there are many challenges still to be solved. The problem is particularly acute for drug and biotech companies whose products sometimes take years to make, test and navigate through regulatory channels. AstraZeneca Plc CEO Pascal Soriot warns it may be "impossible" for the government to forge new trade accords, establish a regulatory framework and develop new procedures for shipping products in time.
And falling back on World Trade Organization rules isn't a panacea: the register hasn't been updated since 2010.
Even in the best case, the U.K. is set to lose the European Medicines Agency and with it the ability to have drugs approved for use both in the U.K. and the EU. 
Technology 
Tech companies – such as Facebook Inc. and Google Inc – will face challenges on data rules in the event of a no-deal split. And this is an area Hammond has flagged as a possible risk.  Personal data would continue to flow between the U.K. and the European Economic Area but if the EU decides U.K. data privacy laws are inadequate, they will be open to legal complaints from European authorities (and activists). That could mean fines and legal proceedings to force data to remain in the EEA. While companies can seek guarantees companies from European regulators that will allow them to send data to the U.K., these may be difficult to obtain quickly given the number of businesses wanting them and the limited resources at Europe's regulators.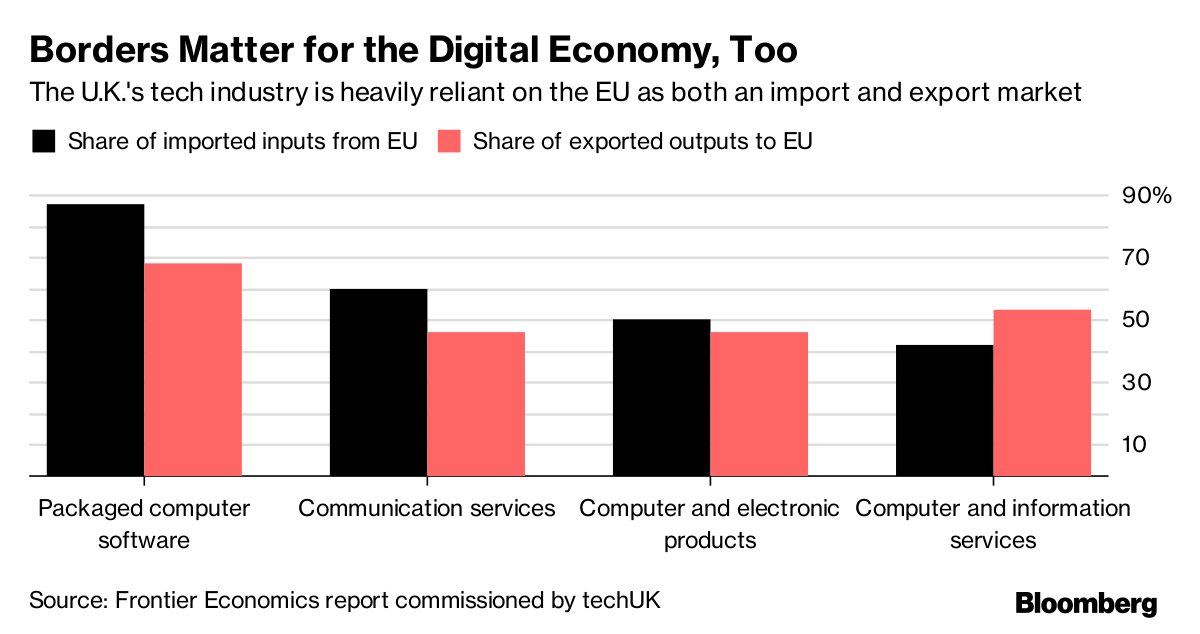 Manufacturers
Making goods in factories remains a key part of the U.K. economy, employing almost 3 million workers and accounting for almost half of all exports. While some manufacturers initially got an export boost after last year's referendum when the pound fell, the risk of a chaotic divorce is a concern for many companies.
Read more:  U.K. Inc paralyzed by Brexit worry and it shows in ad spending
The auto sector is dependent on exports, but also on imports for its components. Autoparts stranded at customs when they're needed at just-in-time car plants is the industry's nightmare scenario. Companies will suddenly need to deal with bureaucracy they've never handled before, and potentially with little warning. The Society of Motor Manufacturers and Traders estimates tariffs could increase the cost of imported cars by 1,500 pounds on average.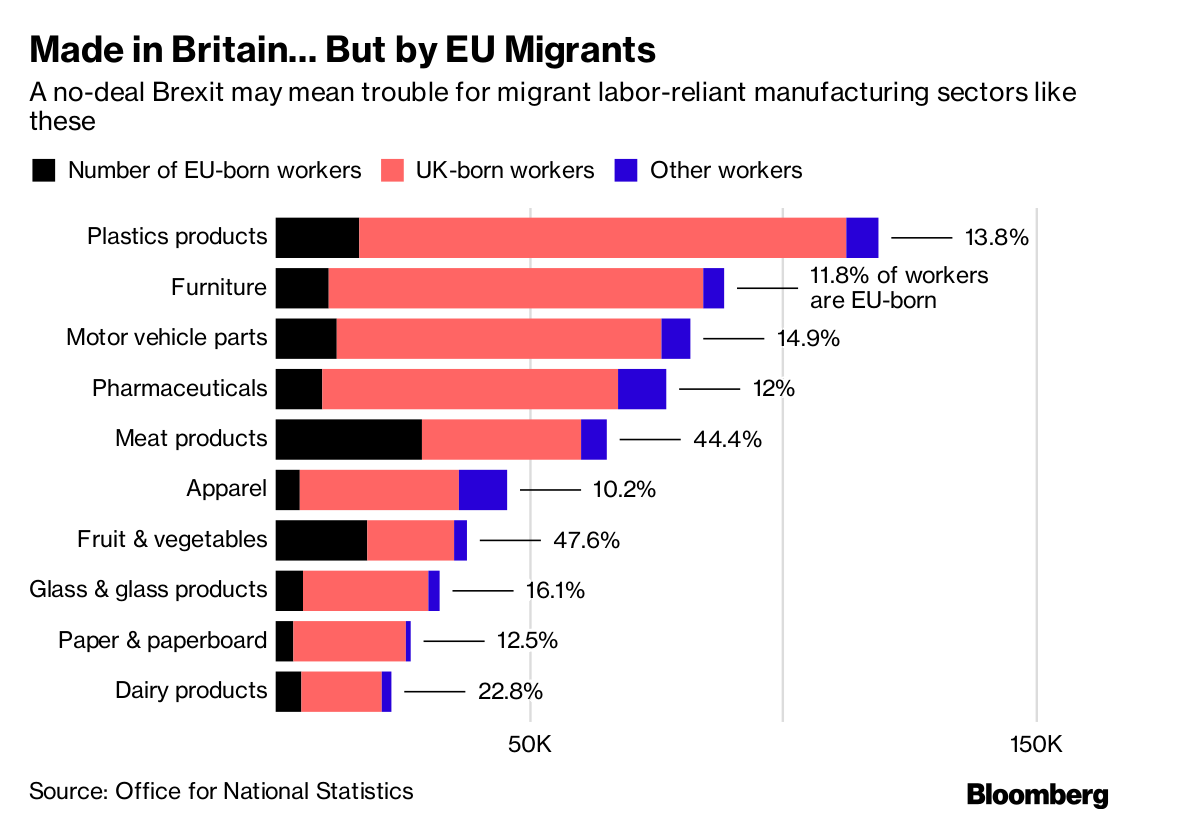 Restaurants
With the possible exception of pub chain JD Wetherspoon, whose boss is an avid Brexit supporter, restaurants and pubs are wary of Brexit. At least one in five kitchen workers, more than one in three housekeepers, and three in four waiters are EU migrants. The British Hospitality Association warns of a staffing crisis: Britons represent just 2 percent of applicants at chains like Pret a Manger, and a replacement scheme won't be in place until 2022.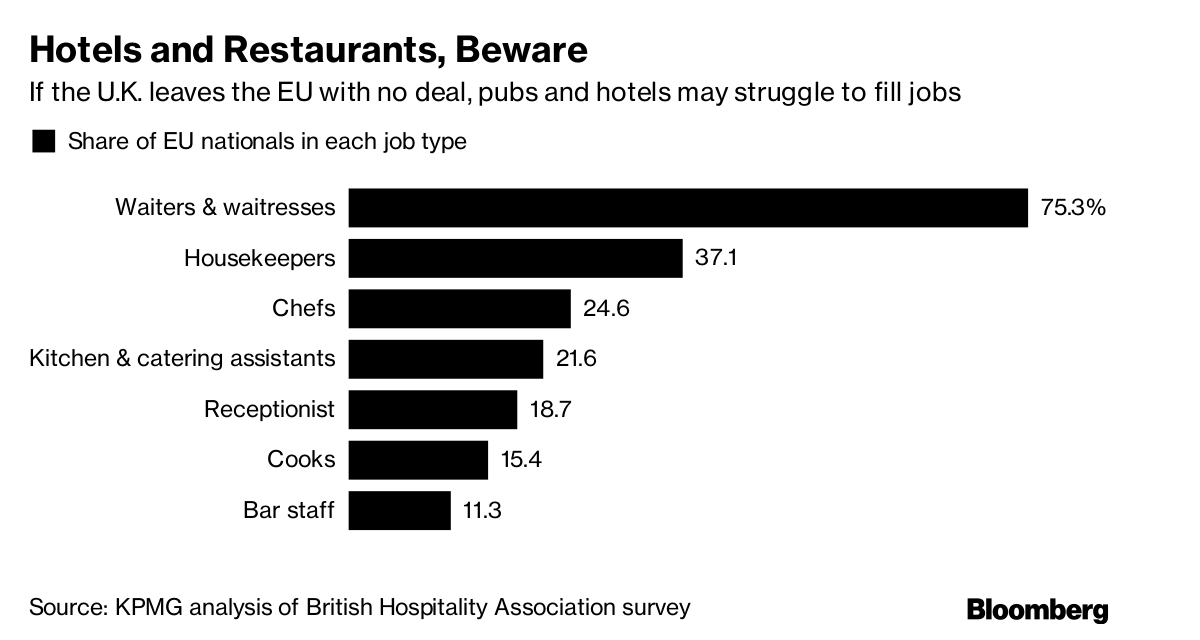 More From this publisher : HERE
Recommended Products
Tags: Brexit British Pound Spot business Economic Growth Europe EUROPEAN MEDICINES AGENCY Exports food Labor Law Philip Hammond politics
Related Post "Heres How a No-Deal Brexit Could Create Chaos in Your Daily Life"