Millions of Venezuelans reportedly lined up throughout the country and abroad to vote against President Nicolas Maduro's plan to rewrite the nation's constitution, in an symbolic victory to the nation's embattled opposition alliance.
While no official results or estimates of the turnout were available by early evening in Venezuela, opposition alliance members celebrated the strong display of support, with opposition deputy Juan Andres Mejia saying that millions have cast their vote, "without a doubt", according to a post on his Twitter account.
Venezuelans were asked in the unofficial plebiscite whether they would reject Maduro's plan to form a new assembly on July 30th that aims to rewrite the constitution and grant even more powers to his presidency, taking the country further into authoritarianism. As part of the symbolic vote, Venezuelans were also asked whether or not they would back fresh elections for a new government.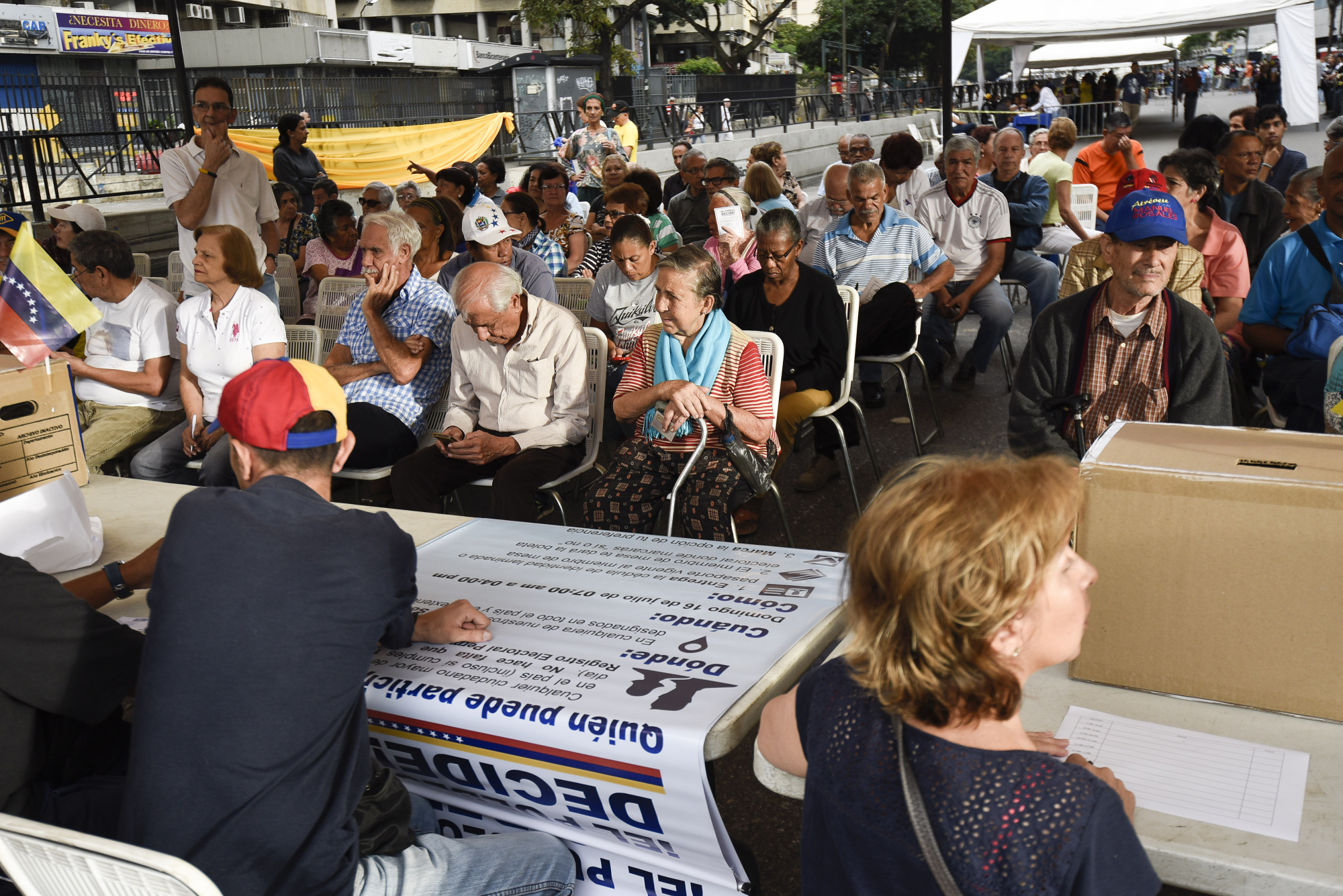 While the poll lacks any real enforcement mechanism and isn't approved by the National Electoral Council, the strong turnout could embolden calls from home and abroad for Maduro to withdraw the proposal for the new constituent.
"The really significant thing is that this will give the opposition the platform they need to demand that the government cancel the constituent assembly," said Carlos Romero, a political scientist at the Central University of Venezuela, ahead of Sunday's vote.
Long Lines
More than 1,900 polling stations were operated by opposition volunteers in public plazas, churches and sporting facilities. Voters lined up early, sometimes by the hundreds, many wearing shirts and hats with the Venezuelan flag on it, chanting against Maduro.
"We have no future, our kids have no future. This is a dictatorship and I just can't sit home and complain, I have to go out and protest," said Alfonso Cortez, a 74-year-old retired man who walked to Caracas with more than 200 people from Tachira, a border state with Colombia, to vote against the assembly.
Henrique Capriles, a former presidential candidate and opposition leader, said after voting the key takeaway from the day was the turnout, which highlighted Venezuelans' desire for better economic and social conditions.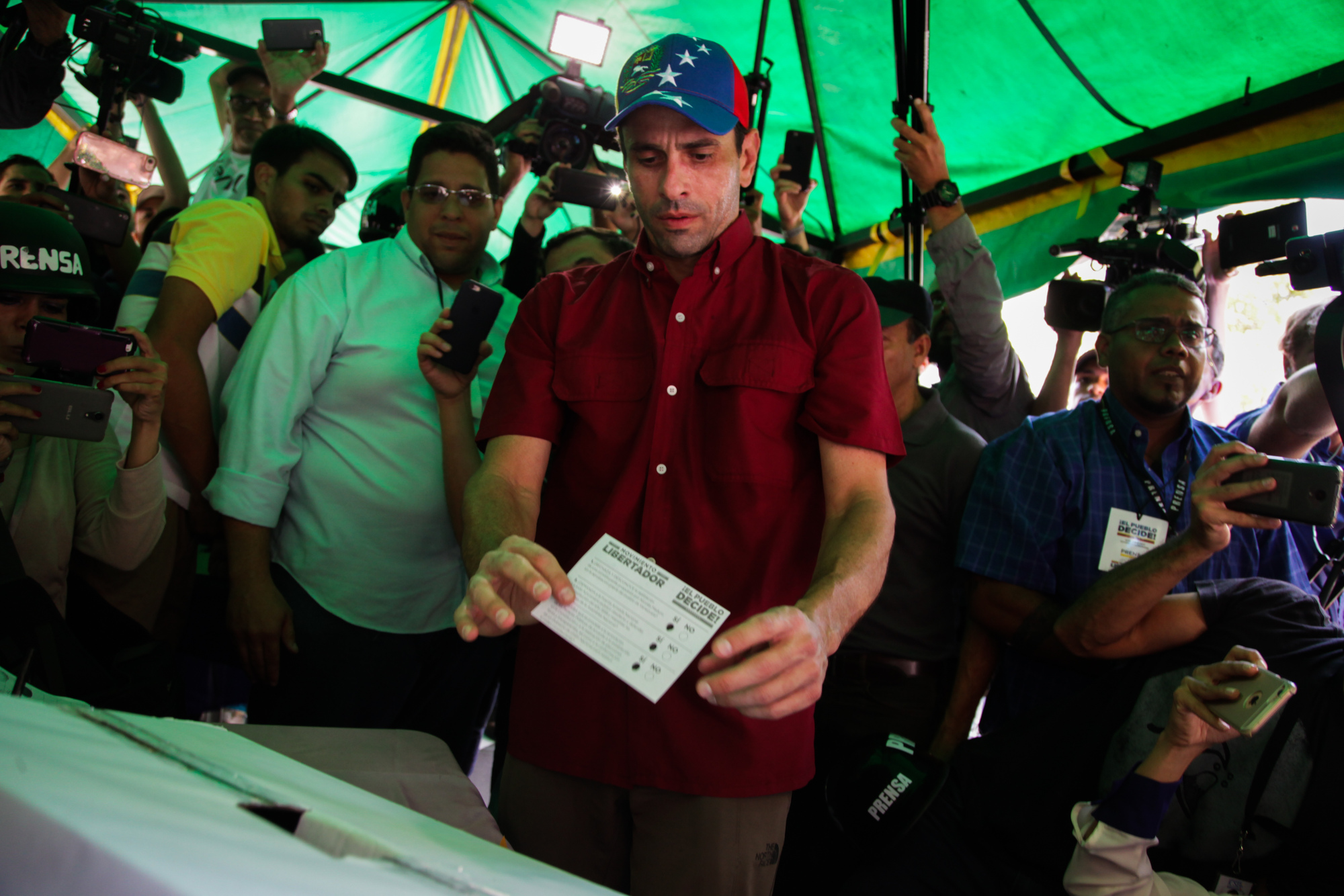 "If the current government doesn't want to end in our country's political trash can, they should take note of the overwhelming, peaceful democratic expression and cancel the constitutional fraud," he told reporters in Caracas. "The cancellation of the constitutional assembly would be a victory for the Venezuelan people."
The National Assembly reported "irregularities" involving armed paramilitaries in a polling point in Catia, a neighborhood outside of Caracas, according to its Twitter feed. Carlos Ocariz, an opposition leader, told reporters that 263 incidents had been recorded across the country. He confirmed four people were injured in Catia after the appearance of armed paramilitaries caused public unrest by a polling place. Ocariz also confirmed a report of two dead.
For a Bloomberg QuickTake Q&A on Maduro's plan for new constitution, click here.
Venezuelans abroad, traditionally barred from voting in regular elections, were allowed to participate in more than 60 countries. At one of five polling stations in Buenos Aires, the queue to vote was six blocks long as Venezuelans waited in the cold. Capriles estimated that as many as a million Venezuelans abroad might have voted.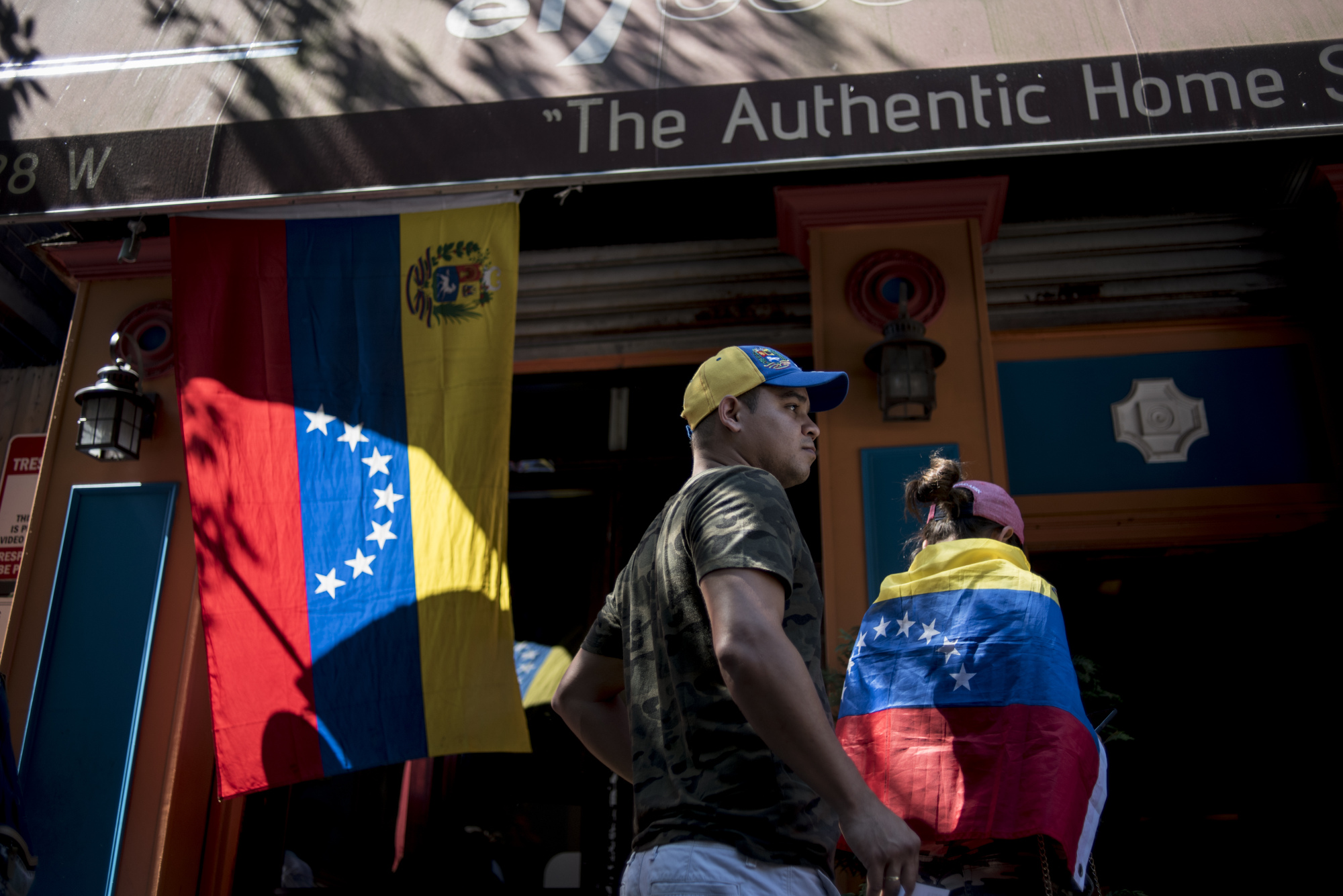 "Turnout of several million would send a very strong signal, with anything exceeding that a remarkable success," Eurasia Group analysts Risa Grais-Targow and Agata Ciesielska said in a report earlier this month, adding that Maduro isn't likely to back down from his plan. "The government will probably use intimidation tactics to try to limit turnout, such as shutting down public transportation and blocking access to polling places."
With fears of violence ahead of the vote, the United Nations called on Venezuela's government to allow the process to proceed peacefully. Tensions have been high ahead of the vote, which took place in the aftermath of four months of organized protests against Maduro's government, which have left 100 people dead.
More From this publisher : HERE
Recommended Products